Click on the Tiger to start again at anytime...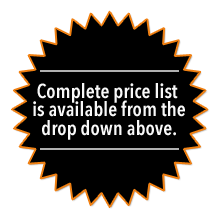 True 7 day service. Book and pay online 24/7 or call us on 02 6253 9844.
7 day delivery. Now available at all Canberra Bunnings stores delivered within 3 hours!!
Please select the bin you wish to hire and click next. Additional information regarding skip bin pricing, waste type and bin dimensions can be found in the top right hand corner of the screen under "Find out more".
All cash bookings must be paid for on delivery. As our drivers do not carry change correct payment is appreciated.
Green Waste, Concrete, Bricks and Soil bins do not have any weight restrictions
Free delivery to Yass, Murrumbateman, Gundaroo and Bungendore
We may choose to deliver Sunday bins on Saturday. Please inform us if you require the bin delivered on the particular day.
Please let us know if you require the bin on the requested day or if you are ordering it for the following day
If you require the bin for longer than 7 days please contact our office to make the necessary arrangements
Be sure to enter a valid email address particularly if you plan to pay online.
If you have a promotional code please enter here or click next
Where would you like the bin placed on delivery?
Do you:
agree to our terms and conditions?
agree to only fill the skip bin flush with the top of the bin
acknowledge that additional fees are applicable if the skip bin is overfilled
agree to only place the specified waste within the skip bin
Please confirm your order details below
Please select the option which best represents your waste. Specific information about your waste will be gathered at the end of the quote process
A standard trailer load is about the same volume as a 2m skip
To save money have your items prepared for collection on the kerb or in your garage
Please inform us if there is difficult or restricted access to the items
To ensure we can collect your items without delay please inform us if there is anything heavy or difficult to lift/carry
Your information has been collected and we'll be in touch shortly with a quote
Bobcats are generally used for large jobs. Minimum access requirement for a Bobcat is 2.8m. Dingos are small and compact and can work in confined areas. Minimum access requirement for the Dingo is 1.2m.
Please tell us what you need done
To calculate your cubic meters simply multiply length x width x depth